TPS Software Achieved CMMI Maturity Level 3 For Software Development
Tháng Chín 19, 2022
• 0 Comment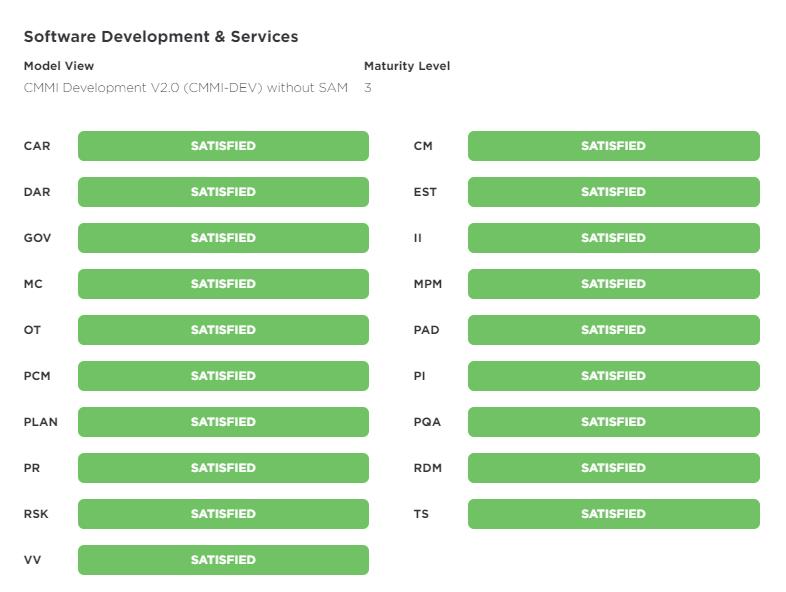 In 2021, TPS Software has been successfully appraised at Maturity Level 3 of the CMMI Institute's Capability Maturity Model Integration for Development V2.0 (CMMI-DEV) by Univate Solutions. This is a remarkable milestone of TPS Software for our dedication to high quality and our mature in software development procedures along with processes.
The appraisal applies to our entirely to all of our Software Development and Services required 19 specific process areas  — for more information please see our Appraisal Report.
What our CMMI Maturity level 3 rating means for you:
Our work and processes have received the highest form of third-party validation
We take a proactive approach to managing projects and processes
We're dedicated to continuous improvement and producing great work that makes a difference
Applying CMMI 's process improvement approach and best practices will help organizations build great products or deliver great services, achieve business goals, and ultimately improve their performance. At Defined level, TPS Software established, applied, reviewed, and continuously improved our set of standard processes, procedures, tools, and methods to enhance our significant quality in software development. Reaching CMMI Maturity Level 3 demonstrates TPS Software's ability to deliver the highest quality service to our customers.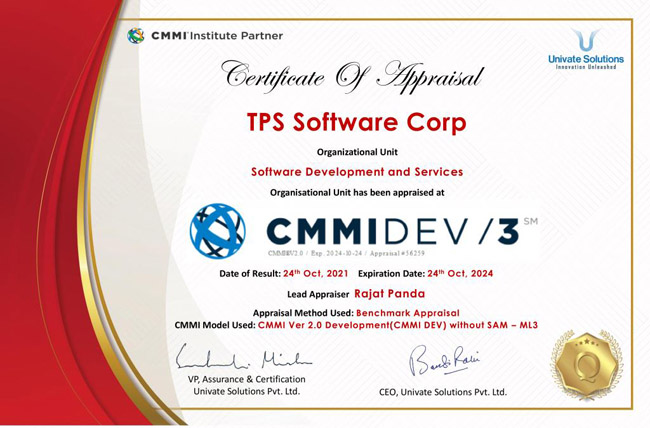 About CMMI® Institute
CMMI Institute is the global leader in the advancement of best practices in people, process, and technology. For over 25 years, The Institute provides the tools and support for organizations to benchmark their capabilities and build maturity by comparing their operations to best practices and identifying performance gaps. To learn more about how CMMI can help your organization elevate performance, visit https://cmmiinstitute.com/.
About TPS Software
TPS Software is a leading software development company, located in HCMC, Vietnam. We are certified with CMMi L3 for software development and ISO27001 for information security. All customer projects have been applying high quality and security standards.
With an in-house R&D department, TPS is always well prepared to consult our clients on all the latest technologies and transform them into beneficial solutions, such as AI & ML, Blockchain, VR/AR, IoT, …
Core services:
Custom software development
Full Software development
Technical and solution consulting
Maintenance and Support
Cloud migration and DevOps
The company has been nonstop growing and has successfully recruited 180+ well-versed engineers into the team, which has enabled us to achieve successful deliverables. Also, that valuable resource allows us to be more competitive for upcoming potential software developments. The company has conquered North American, Japanese, and Australian, Singaporean markets, and plan to expand globally.
For any inquiries or request for information, please contact us at: Sales@tpssoft.com or visit https://tpssoft.com/.